The COVID-19 virus has become a global pandemic unlike anything we have seen before. With countless lives lost, scientists are working around the clock to improve testing and ultimately create broad treatments and vaccines.
The below has a brief summary of some of the cutaneous findings that have been demonstrated from around the world, as well as what we are seeing in the United States. While long-term evidenced based medicine is the Gold Standard, and something we hold to the highest regard, given the urgency, it's important to share any information that can prove to be helpful to physicians and non-physicians alike.
Italy
A study from Alessandro Manzoni Hospital in Italy had approximately 20% of 88 in-patient COVID-19+ patients (60 excluded due to starting new meds within 15 days of onset) with skin lesions. These included urticaria-like reactions as well as lesions mimicking chicken-pox vesicles.
Thailand
A brief reports notes a rash mimicking Dengue-fever and leading to a delay in diagnosis.
"There is a possibility that a COVID-19 patient might initially present with a skin rash that can be misdiagnosed as another common disease. The practitioner should recognize the possibility that the patient might have only a skin rash and think of this disease to prevent transmission." – Beuy Joob, PhD, of the Sanitation1 Medical Academic Center, Bangkok, and a coauthor.
United States
We've seen an increased incidence of acro-ischemic lesions that tend to be self-healing. They resemble vasculitic disorders like perniosis or HSP Vasculitis. It's unclear if they are an indication of a previous COVID infection or active. We are seeing more of these in our current case load but so far, none of the patients have otherwise been symptomatic and have not had antibody testing available . It is theorized that this could be an expression of microthrombosis due to either endothelial damage and vascular disorders. Many front-line colleagues indicate a higher level of clots in these patients with further morbidity. This is similar to a report from the European Journal of Pediatric Dermatology.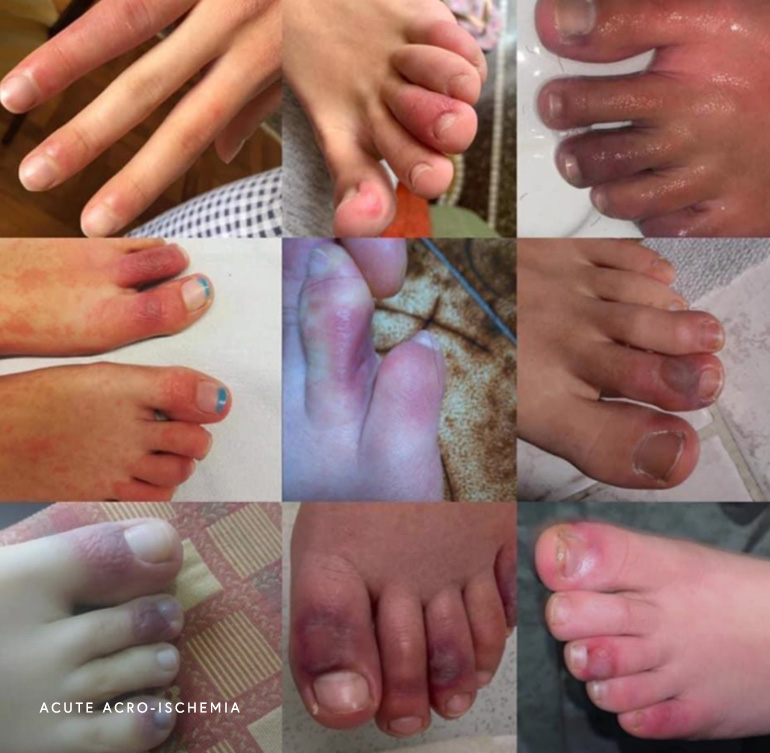 The above indicates we should all be more aware of the possibility of a link with the virus. Again, with limited time understanding all the manifestations of how COVID-19 affects the body, symptoms like skin rashes can hopefully provide diagnostic clues and indicate potential need for testing or further treatment.